One quiet evening, whilst feeling bored I got my camera out and mutilated a Haribo bear. I'm not proud of it, but here is a a few pictures of the aftermath...
(I was just trying to see how well the macro funtion on my camera was and wanted a way to start another random blog post!)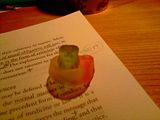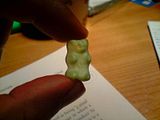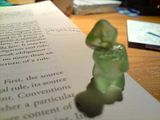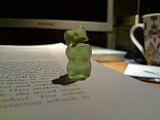 Anyways, putting weird pictures to one side. The G20 summit is happening in London right now with, supposedly, an agreement to tackling the current global fiancial crisis imminent. The G20 has been in existence since 1999, but never has its purpose been more necessary. What doesn't quiet make sense to me is the member states which belong to the G20. You have the likes of the UK, France, Italy...and then the EU. Last time I checked wasn't the UK, France and Italy part of the EU?? It definitely undermines the purpose of the EU. Anywho, without this turning into an essay, i'll leave the blogosphere with this pic:
This is a pic of the G20 leaders with the Queen. It includes eight prime ministers, 12 presidents, one chancellor and one king. Can you spot the king?
Prince Philip's 'Joke' regarding the world leaders is hilarious! (
Prince Philip's remark
)(although you could say he has a point!) Right, thats enough procrastinating for me! Back to the books!
(40-something days left until my first exam :o)